Electronic Supply Chain Solutions, Inc. is a leading advocate in the fight to combat counterfeits in the electronic component distribution industry.

ESCS is uniquely qualified and actively committed to quality. ESCS continues to work with government and industry leaders in the development of best practices for the electronic component supply chain.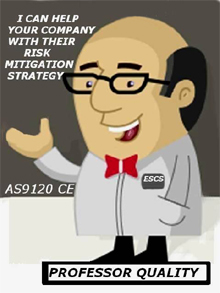 Do your current suppliers claim that nothing leaves their dock without either a proper source pedigree or a professional 3rd party test report for authenticity and/or functionality? What are their credentials?


ESCS's credentials include:



AS9120 Certification

ESCS was among the first three companies in the U.S.A. to achieve Aerospace AS9120 certification.

Congratulations ESCS!&nbsp A Hat Trick!

In 2010, ESCS had its 7th Aerospace surveillance quality audit.

ESCS received its 3rd unprecedented 100% score

, providing objective evidence of the company's commitment to a maturing quality management system.

The AS9120 standard flows down the requirements of your AS9100 manufacturer's quality system, giving you the assurances you need that your requirements are being met with the highest quality operations, including special procedures for inventory control, split lot traceability and a stringent vendor management system.

You can easily view our AS9120 certification status and most recent audit results on the OASIS database at

www.sae.org/OASIS

.
Government & Industry Association Memberships
GIDEP - ESCS is a member of the Government and Industry Data Exchange Program.

QLF - ESCS is a member of The Quality Leadership Forum (QLF) sponsored by NASA that is an aerospace forum meeting semi-annually for the advancement of quality assurance practices, discussing quality issues and sharing quality information. The principal objectives of the QLF are to integrate quality approaches, standardize quality practices, resolve current problems, improve use of quality resources, define and analyze quality risks, communicate lessons learned, share best practices and improve quality processes.

G-19 - ESCS is a voting member of the SAE Technical Committee (G-19 Counterfeit Electronic Parts Committee). The G-19 consists of approximately 20 members from government agencies, prime contractors, electronic distributors and test houses. The group was chartered by the SAE to address aspects of preventing, detecting, responding to and counteracting the threat of counterfeit electronic components. G-19 has recently published the new aerospace standard, AS5553.

CACP - ESCS is a founding member of The U.S. Chamber of Commerce's "Coalition Against Counterfeiting & Piracy". The CACP coordinates high level inter-governmental and industry initiatives to protect all U.S. intellectual property rights. Electronic Supply Chain Solutions was an active participant in the CACP 2007 Summit in Washington, DC, representing the electronic component distribution industry, and continues to contribute to industry education by sponsoring www.combatcounterfeits.com.

ERAI, Inc. - ESCS is a member of the ERAI, a privately held global information services organization that monitors, investigates and reports issues that are affecting the global supply chain of electronics. Since 1995, ERAI has been the industry's primary reporting and investigation service, providing information and risk mitigation solutions to electronics professionals worldwide. ERAI is comprised of Original Component Manufacturers (OCMs), Original Equipment Manufacturers (OEMs), Distributors (franchised and independent), Contract Manufacturers (CMs), government agencies and associations serving the industry.


Sponsor of AS9120.info Industry Resource Center

ESCS sponsors www.AS9120.info to provide information and resources on the aerospace AS9120 quality management system for stockist distributors.

AS9120.info outlines how the standard builds on the AS9001 standard with additional requirements for chain of custody, traceability, control and availability of records. Manufacturers can also learn how working with AS9120 certified distributors helps mitigate counterfeit risk, and how to easily check any distributor's certification.


Sponsor of AS5553.info Industry Resource Center

ESCS sponsors www.AS5553.info to provide information and resources on the aerospace AS5553 standard, "Counterfeit Electronic Parts; Avoidance, Detection, Mitigation, and Disposition."

AS5553.info explains in clear terms how the AS5553 standard provides uniform requirements, practices and methods to help manufacturers mitigate the risk of receiving and installing countefeit electronic parts.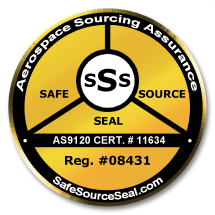 Pioneer of Safe Source Seal Source Validation Program
ESCS's President, Matthew Heaphy III, recognized the need for a validated means of providing sourcing declarations to aerospace and military manufacturing customers of independent electronic component distributors. As a result, the company developed the Safe Source Seal program, which was officially launched in November, 2008. Safe Source Seal has been well received by ESCS's customers as well as industry leaders involved in developing standards for best practices to combat counterfeits. For further information, please visit
www.safesourceseal.com
.
Our Industry Research
With counterfeiting of electronic components rapidly escalating, there has been a lack of fact-based information available on how aerospace and military manufacturing companies have reacted to the problem. To address this information gap, ESCS staff conducted interviews with over 90 quality and procurement professionals across a range of companies, from leading prime contractors to smaller contract manufacturers. The resulting industry assessment was issued in October, 2008,
"Awareness and Industry Efforts to Combat Counterfeits in Aerospace & Military Electronic Component Procurement"
.
Speaking Engagements
As a recognized quality leader among independent distributors and an active advocate of best practices to combat counterfeits, Mr. Heaphy has spoken to various companies and industry groups including Boeing, Honeywell, Lockheed Martin, and the Naval Air Systems Command. He was a keynote speaker at the 2008 Future Aerospace Congress, and most recently was asked to present an overview of the Safe Source Seal program at NASA's Quality Leadership Forum.

If you would like to inquire about a possible speaking engagement, please see our Contact Us page.


Consultative Services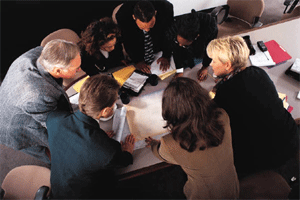 Mr. Heaphy and the entire staff of Electronic Supply Chain Solutions, Inc., are pleased to assist companies wishing to develop specific risk mitigation strategies to combat counterfeits. ESCS can quickly take you through a "checklist" of risk factors, look at your company's strengths and potential weaknesses and recommend appropriate steps to help secure your supply chain, while maintaining maximum flexibility to meet your program objectives.

Please see our Contact Us page for information on how to reach us. Give us a call now to find out how we can help you achieve your risk mitigation objectives.


ESCS Procurement Resources


This is the starting point for sourcing of electronic components, saving you time and putting at your fingertips the information you need to make sound business decisions:


Shop by commodity type
Navigate to over 3,000 manufacturers
Drill down to 100's of RoHS initiatives
Access key entry points to the DSCC site
Look up datasheets

...and much, much more. Over 60% of buyers who visit bookmark this valuable resource.



ESCS innovates with another first in the electronic component supply chain. Navigate to a high magnification photo of the part you're looking for in a "virtual 3-D image", with multiple parts rotated to show all part markings, logos, etc.

ICPHOTOSYNTH also gives you a link with each part photo to the related datasheet. And for future reference, ESCS keeps a photo of every lot and date code we have ever shipped to you, just an email request away.



ESCS innovates with another first in electronic component procurement. Now you can have all the services you need in a single request, so your products are delivered ready for the production floor. Keep your project on track and within budget. Let ESCS handle lead forming & tinning, tape & reeling, dry packing, even bar coding. Need testing or de-programming? ESCS's COTTS can handle that for you, too. Learn more.



Why not get started now sourcing your components through ESCS? We understand your needs and can help in developing strong, risk mitigation strategies. Use our easy, online form to request a quote.